A site-specific light and sound installation by artist Ian Strange and musician Trevor Powers, culminating in a major new film work and photographic series.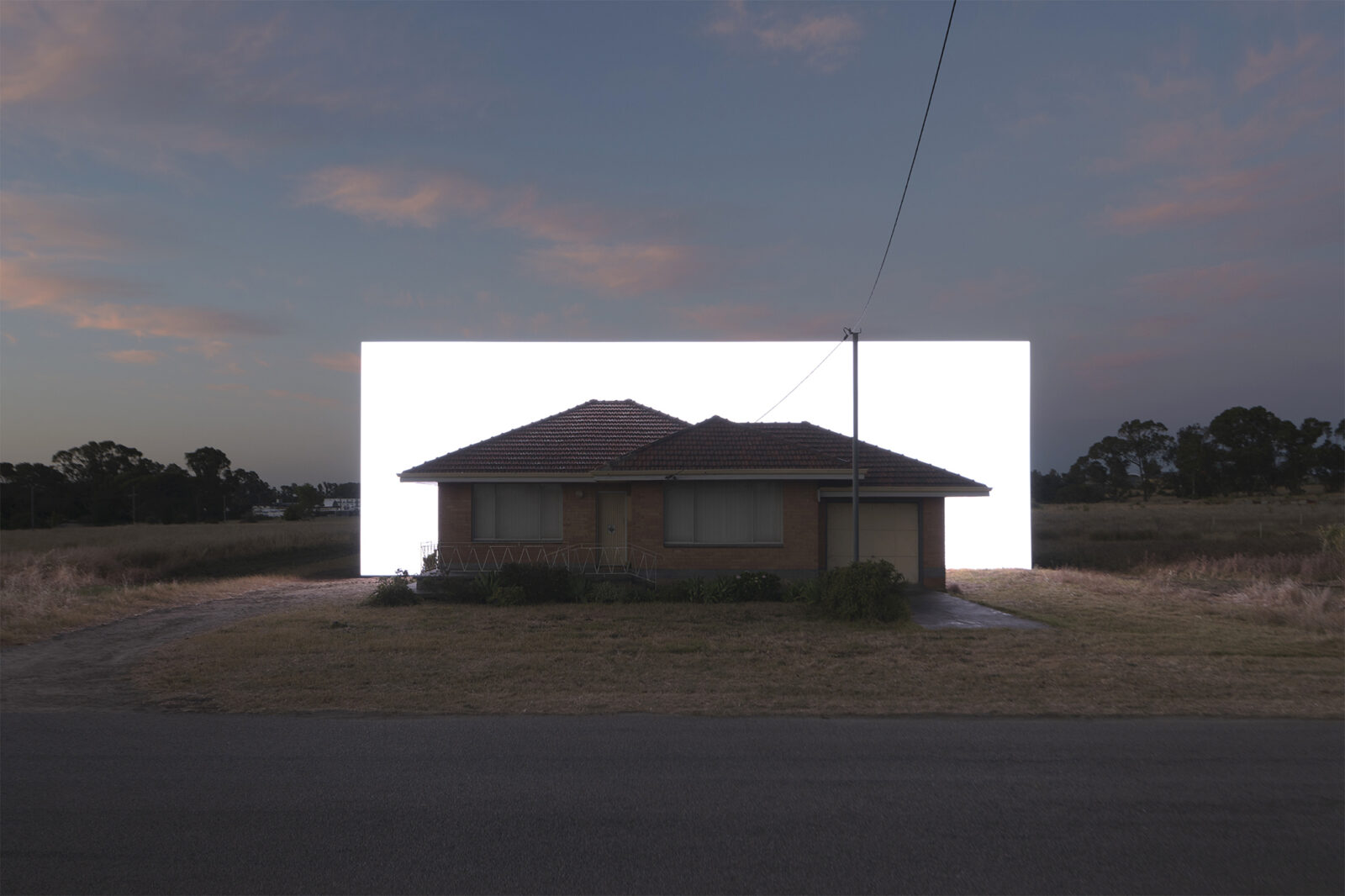 DALISON 1, 2022. Ian Strange. Archival digital print, photographic documentation of site-specific intervention.
Dalison is an architectural intervention, sound and light installation by artist Ian Strange in collaboration with musician Trevor Powers, culminating in a single-channel film work, a series of photographic works and a one-off live performance.
The work was created around an isolated home at 20 Dalison Avenue, Wattleup, a southern suburb of Perth, Western Australia that, since being earmarked for industrial redevelopment by the state government in 1996, has been slowly erased.
20 Dalison is one of two remaining "hold out" homes in Wattleup's once-thriving township. After two decades of holding out, the home's former owners finally decided to sell in 2019 and 20 Dalison now awaits demolition — joining the fate of more than 300 homes that have been bought and raised by the government here over the past twenty years.
Created in collaboration with those former owners and other former Wattleup residents, the film and photographic works form a surviving record of this unique temporary installation; a eulogy to this home and the community it was once part of.
DALISON forms part of Strange's ongoing global body of work exploring ideas of home and social displacement around the world and will be shown in a series of upcoming exhibitions and screenings in 2022.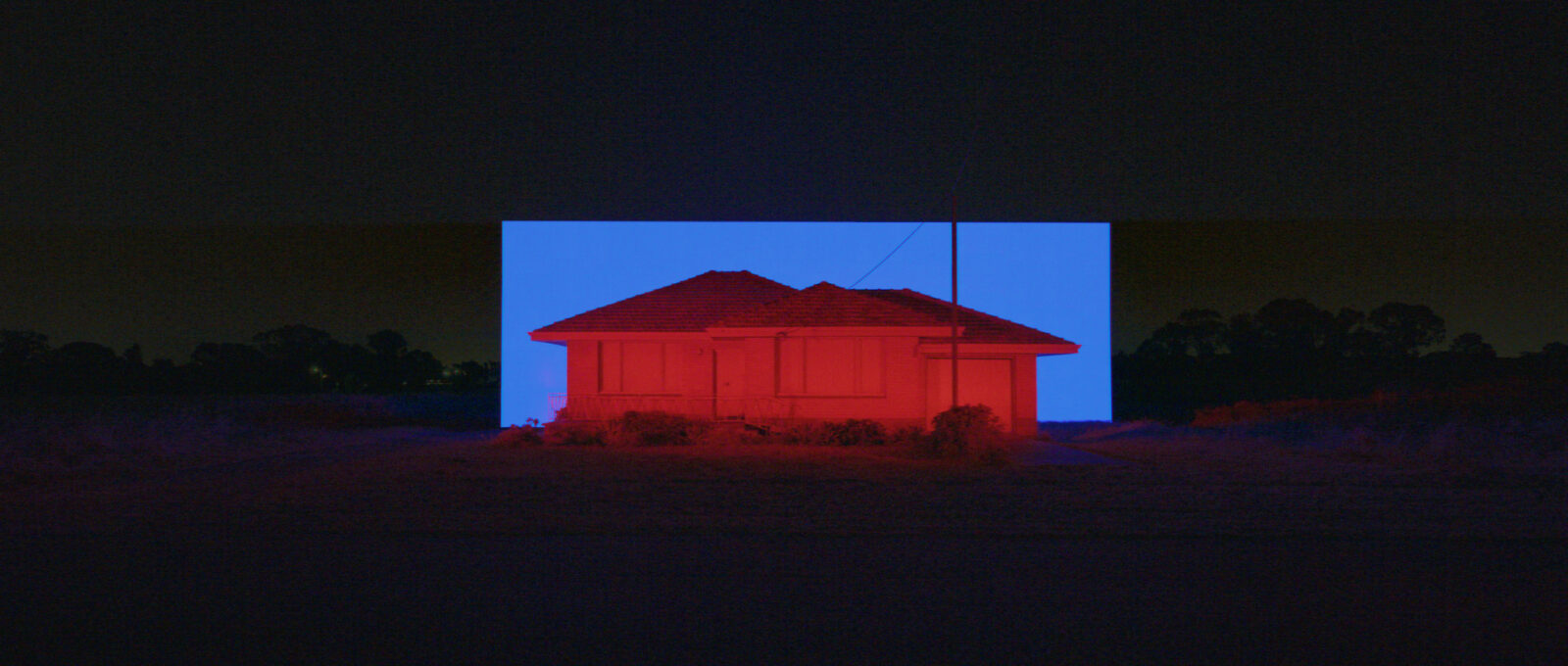 Still from DALISON, 2022. Ian Strange, Trevor Powers. Single-channel film work, 2.40:1, Stereo Sound. 18m05s duration.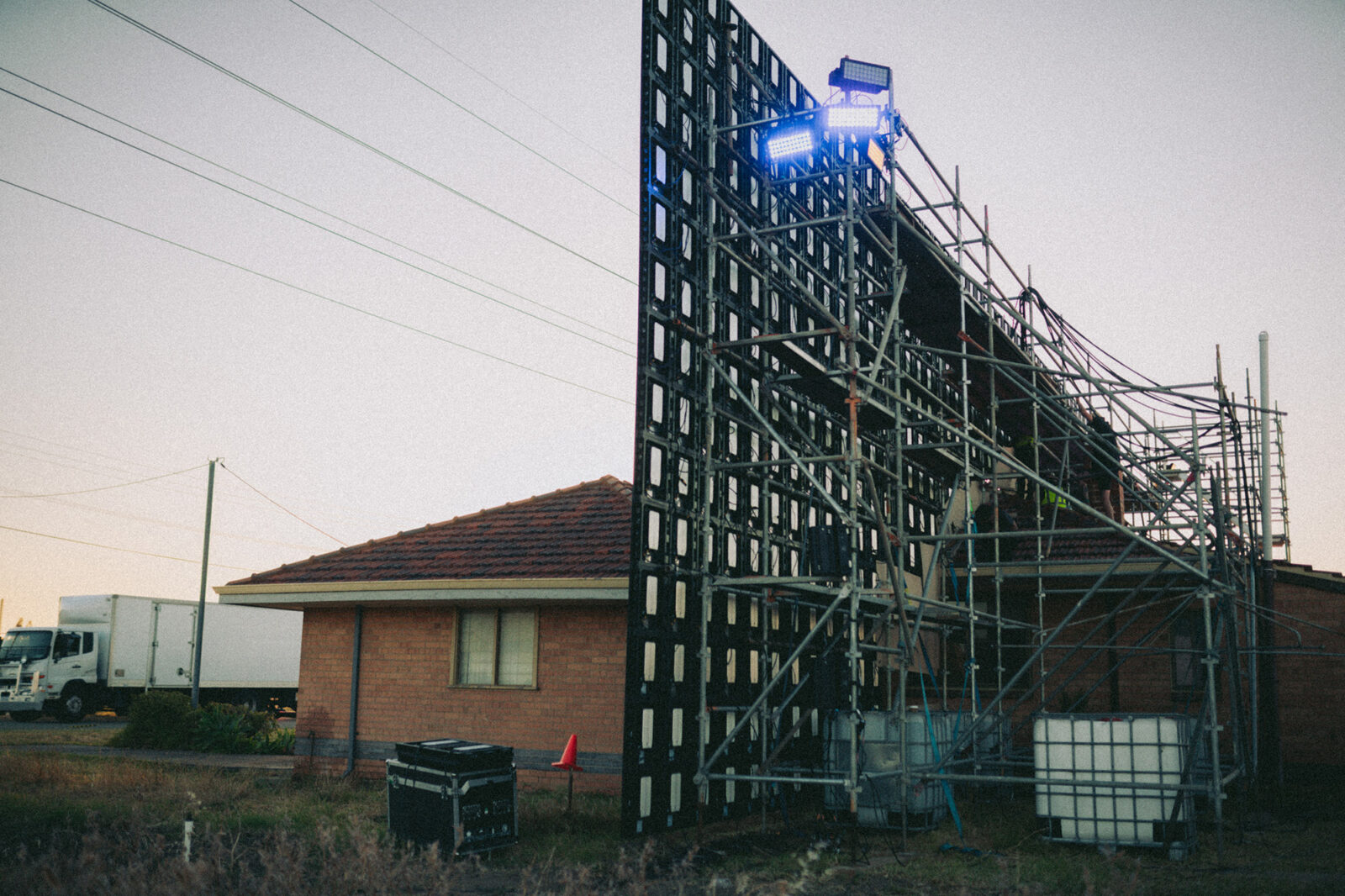 December 2021. To create DALISON, a 260-square-metre LED video screen, comprising hundreds of individual panels, was installed around the home at 20 Dalison.
Making the Work
A project in multiple parts
Strange's site-specific installation, designed and built in collaboration with a team of production, film, construction and lighting specialists, comprised a 260-square-metre video screen and film and theatre lighting, transforming the home into a choreographed light and sound "performance", set to Trevor Powers' melodic, experimental score.

Through lighting design based on Strange's original hand-drawn visualisations, DALISON employs slow, poetic light and sonic movements to intentionally subvert the regular usage of this cutting-edge screen technology, common at music festivals. The result is a form of 'anti-concert'; a performance transmitted out into the now empty expanse around the home, where there is no audience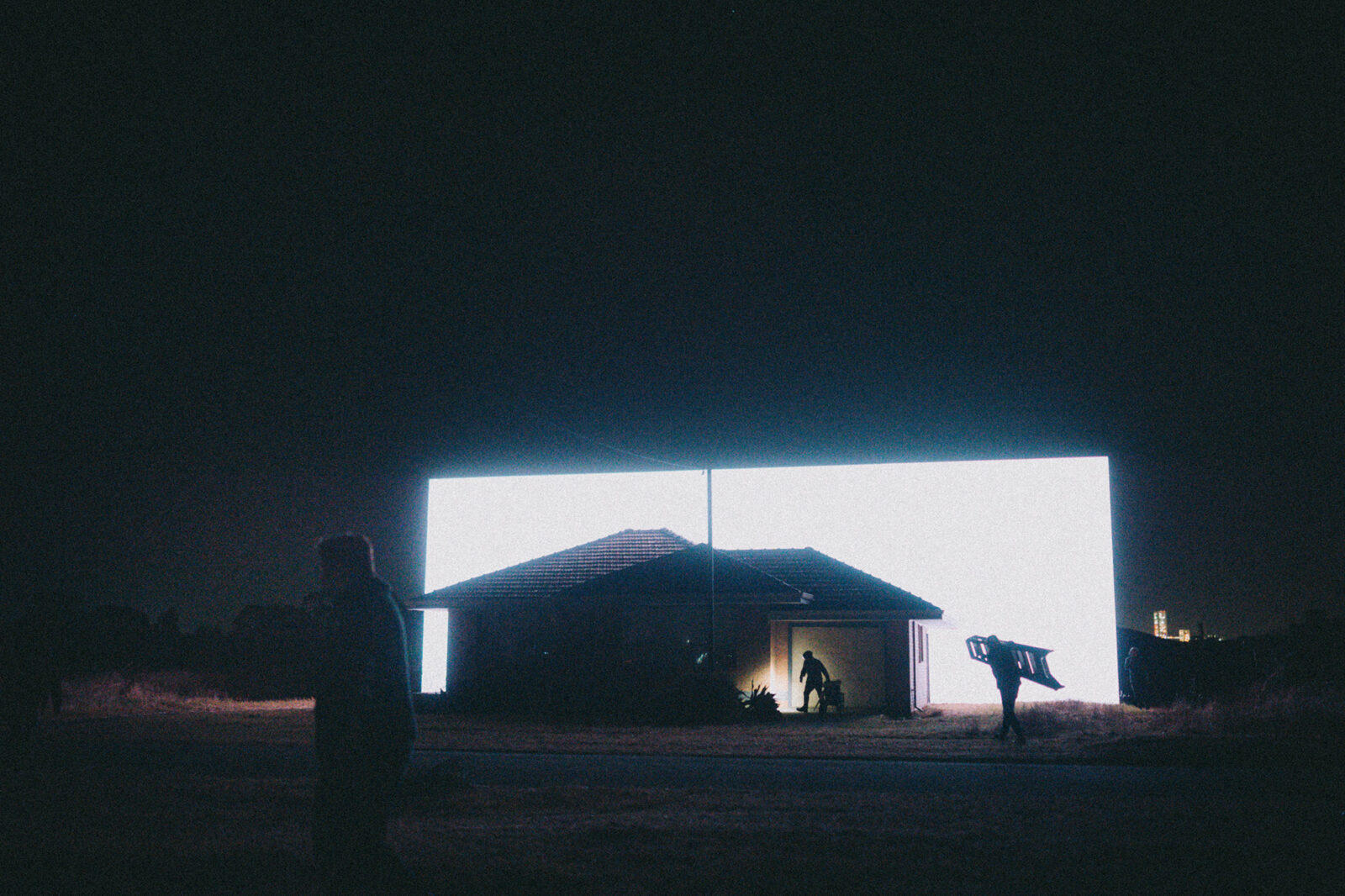 December 2021. Strange and crew on-site creating DALISON
The durational light and sound installation oscillates between isolating the home in darkness and lighting its context to reveal the vast empty suburb around it. In some moments, the light removes the home from site, rendering it into darkness. In others, the home appears in silhouette, poetically situated back in its site, floating in space, shifting through monochromatic colours, and then finally disappearing back into darkness.

Powers' original composition was informed by site-based research. The artist set out to create a work that sounds as if "dug up"; an audible relic of a past time discovered in some distant time, future and past brought forth at once. Strange's light work is both an aesthetic interpretation of Powers' sound work, and a collaborative and layered interpretation of the memory of this home, and the many others for which it is an index

December 2021. Working with a large film and technical crew, the DALISON film and photographic works were created over three nights.
Strange and his team documented this performance over a period of three nights, resulting in six new photographic works and an 18-minute film work set to Powers' score.

On the last night of filming, a small group of community members, former residents and collaborators were invited to an intimate one-off live viewing of the installation before it was dismantled.
The story of the former owners — the Cukrov family — and that of Wattleup more broadly, as well as the making of the work, is captured in "Making Dalison", a documentary short accompanying the artworks.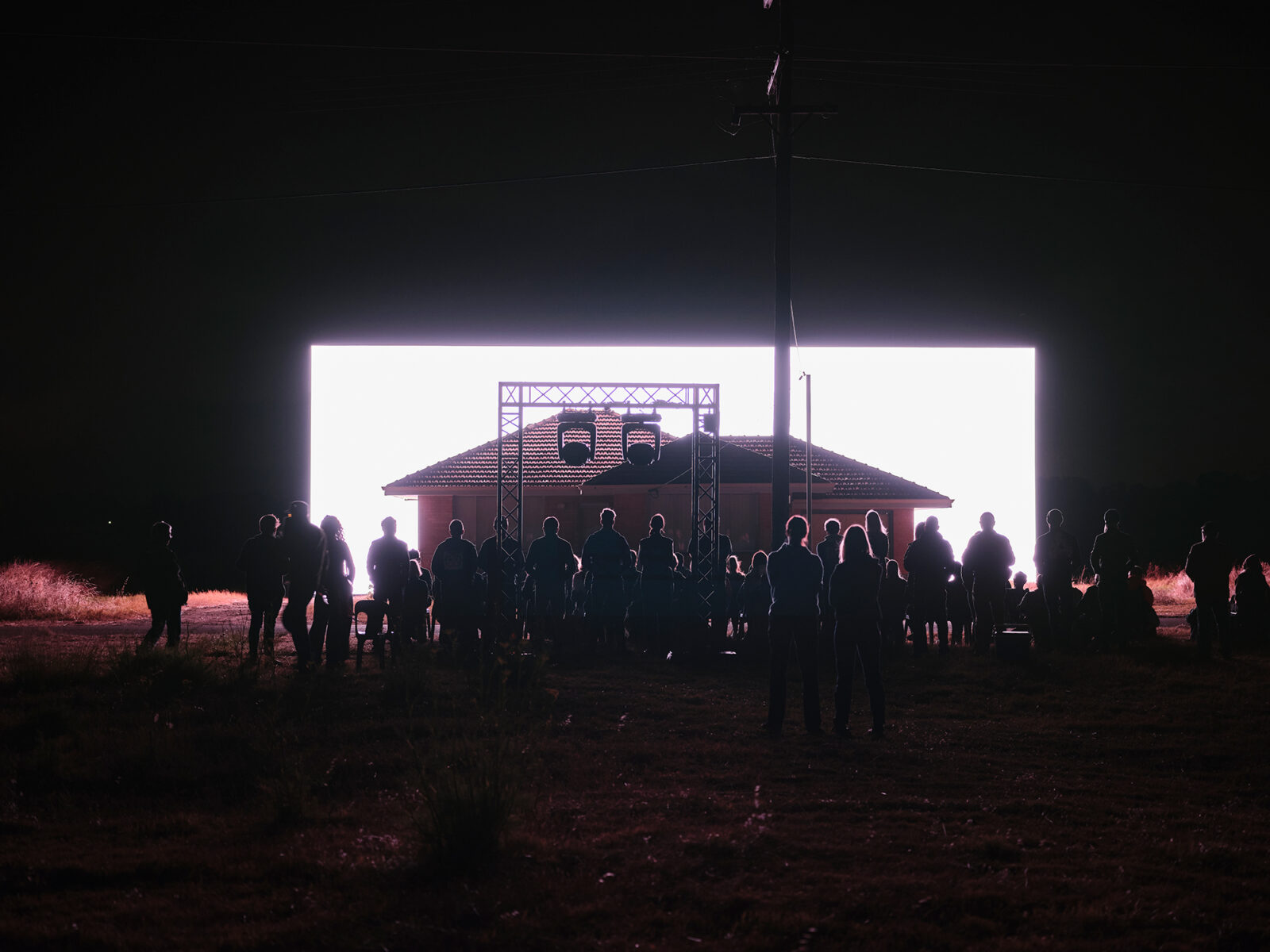 December 2021. A small audience of former residents, community members and collaborators watches the DALISON performance in a one-off live viewing.
Ian Strange
Ian Strange is a transdisciplinary artist whose work explores architecture, space, and the home. His practice includes multifaceted collaborative community-based projects, architectural interventions and exhibitions resulting in photography, sculpture, installation, site-specific works, film, documentary works, and exhibitions created around the world. His studio practice includes painting and drawing, as well as ongoing research and archiving projects. Strange is best known for his ongoing series of suburban architectural interventions, film, and photographic works that subvert the archetypal domestic home.
Strange's works have been exhibited extensively in spaces such as The National Gallery of Victoria, Canterbury Museum, The Art Gallery of Western Australia, Art Gallery of South Australia, Whitewall Galleries, Perth Institute of Contemporary Art, ThinkSpace, MCA, The Queensland State Library, Allouche Gallery, Standard Practice Gallery, Strychnin Gallery Berlin, and Fremantle Arts Centre; as well as at arts festivals including Underbelly, PUBLIC, NuArt, Auckland Festival of Photography, and SPRING/BREAK 2017. In 2017, ABC TV released "HOME: The Art of Ian Strange", a six-part documentary series looking at Strange's career and work to date.
Strange has spoken and lectured widely about his practice, including at Parsons School of Design (2014), Columbia College Chicago (2017), TEDxSydney (2018), RMIT University (2019), and Harvard Graduate School of Design (2020).

Trevor Powers
Trevor Powers (born March 18, 1989) is an American musician, producer, and composer based in Idaho.
He began recording music in 2011, releasing a trilogy of albums under the moniker Youth Lagoon before announcing the end of the project in 2016. Two years later, Powers and a handful of contributors retreated to Sonic Ranch, a residential studio complex in Texas in the middle of a 2,300-acre orchard. The result was Mulberry Violence — the debut album under his birth name. The six-week tracking process consisted of fusing together textures, arrangements, and programming created at the ranch with poetry he had written over the previous two years. The album was mixed in Los Angeles by frequent Beyoncé collaborator Stuart White.
In 2020, after a severe panic attack, Powers took to a cabin with a piano near Idaho's Sawtooth Mountains. Here Powers made the album Capricorn. As Quinn Moreland notes on Pitchfork, "Like a heavily tattooed modern-day Thoreau, [Powers] sprinkles the record with recordings of raindrops, streams, and thunderstorms, reminders of the symphony that the natural world offers us for free." Capricorn paints a world of melancholia and unsettling beauty. Powers' field recordings, classical motifs, and software sculptures don't stop time; they examine it like a beetle under a microscope — exposing that the extraordinary is often hidden in plain sight. "From the minute we wake up, we're in a trance," he says. " This is music for our digital coma."